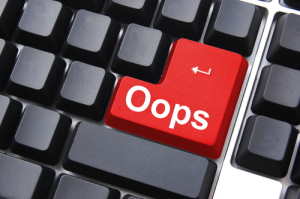 There is no way that you can learn SEO techniques that work and how to implement them properly without making mistakes. Some are going to be a lot more common than you might believe and these are the ones that every person that wants to learn on page search engine optimization should be aware of.
1. Using the Same Title On Many Pages
The page's title stands out as one of the really important factors that are considered by the search engine in order to determine what the webpage will talk about. It is highly important that every single page on your site will have a unique title that will properly reflect the purpose and content. Never create pages with the same title as the search engine will see them as similar and this will hurt your rankings.
2. Content Keyword Stuffing
In the past, people simply added numerous keywords inside the content area and this would make the pages rank higher in organic results. Nowadays if you do this, you are more likely to receive a penalty and the site will receive a poor ranking or can even be blacklisted. If you have a really high bounce rate, it is usually a clear indicator that you have content that has keyword-heavy content.
3. Bad URL's
The bad URL can be defined as a link that cannot be found, visited, linked, clicked or submitted to any social networking site. The difference between a bad URL and a broken link stands in the fact that the broken link is not working anymore while the bad URL never worked. As with broken links, you need to make sure that there are no bad URLs present on your sites.
4. No Alt Text for Images
When you insert an image in a page, there is the possibility to add a Title tag. This will count as extra text and it will be really important as the ALT text can add to the optimization of the entire page. Make sure that you use long tail keywords that are linked with the general content of the webpage so that you can help the page rank higher in search engines with the use of a really simple HTML code.
5. The Use of Header Tags
Although this is the last point that is made, it is one of the most important that you need to be aware of when referring to on page SEO. Header tags like H1, H2, H3 and so on are always going to bring in benefits in SERP due to the fact that the search engines will weigh the words that you place under the header tags in their ranking process.
Did this article help you realize your common SEO mistakes? Did we miss anything? Share your own SEO thoughts and ideas with us!
Source: Inspiration Feed
Image: SEO Journalist