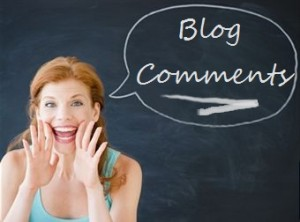 In the past three years, blogs have emerged as one of the most popular sites on the Internet. Millions of users love them because they are updated on almost daily basis, and are more interesting to read than regular, boring web content. With the kind of traffic that these blogs attract every single day, you would want to use this medium to reach out to thousands, or even millions of users. That is now possible through blog commenting.
So what's the way to start blog commenting?
You should start by doing some research to identify popular blogs that are related to your products or niche. Target just 15-20 blogs for a start and visit these blogs at least once or twice every week. Read interesting posts and post your comment. Some blog owners even allow you to add link of your own website and blog on your posts. If your comments are helpful and intriguing, you can be assured that all those who are visiting the blogs will definitely be enticed to pay a visit to your blog or website.
However, you should keep in mind that just like other content marketing solutions, blog commenting won't get you the desired results within hours. You will have to be consistent and patients for few weeks or months for your niche market to notice you.
Get tons of back-links with blog commenting!
Commenting on various blogs in your niche means that you will get highly targeted traffic. You can use many directories on the Internet to search for Do Follow blogs. The best way to handle this is by going for a blog that has been around for past few years and gets large number of visitors. The webmasters of such blogs understand more about spam levels and allow posters to add links to their websites and blogs.
Some useful tips:
* Be consistent-You would be interested that all those who visit top blogs related to your niche see your name more often on the blog. Therefore, you should do blog commenting at least twice a week. You should maintain the flow and should not slow down even when you start getting the kind of attention that you want.
* Avoid advertising in your comments- Some people who are actively doing blog commenting to promote their services and products aggressively. However, you must keep in mind that blog owners can remove your comments if they are not too happy with its contents, or they feel that they are spam. So the best thing for you would be to share your opinion, and add your URL. This would definitely work to your advantage.
* Be smart- Give highly useful information when writing your posts. You must remember that your main aim is to entice blog visitors to check yours out!
Did you find these tips useful? Tell us how you have used blog commenting for your website's advantage!
Source: Inspiration Feed