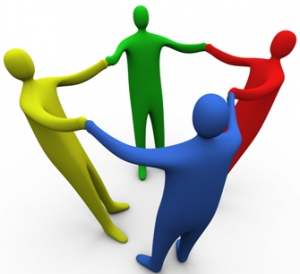 A recent study from Penton Marketing cited that now 60% of B2B marketers have either implemented a social media strategy or plan to do so this year. Many companies and B2B marketers are realizing the impact social media can have on an overall marketing strategy driving brand awareness, increasing new business, and building community. We recently looked to hundreds of B2B companies for examples of social media tactics put to the best use and found that three stood out in the crowded technology sector: Marketo, Salesforce.com, and VMWare.
Marketo & Facebook
Marketo has fully branded its Facebook timeline to fit with its rock-and-roll theme and it shares content such as cartoons, videos, pictures, job opportunities, and other content that would appeal to its audience. A B2B company can really have an impact on Facebook, and Marketo has demonstrated how it uses the network to enhance its brand and build an admirable community of 20,000 strong. A Key Tip: Always strive to release fun, interactive content on Facebook and save the boring stuff for your corporate site.
Salesforce.com & Twitter
Salesforce.com is an example of a company that utilizes the network for what it is really meant for: a creative channel to personally connect with an audience. Salesforce.com uses Twitter to share videos, photos, marketing content, and customer service information. It also does a fantastic job to humanize its brand by including photos and Twitter handles of its community managers. A Key Tip: Don't be just another Twitter handle! Include pictures of your community managers on your main page, and if you have multiple people tweeting, sign your tweets.
VMWare & Its Social Hub
A multi-product company needs a multi-prong social media approach. VMWare has taken the approach of tying multiple social networks and products into one central location or community page. It is organized based on its different buyer personas and specific needs. A Key Tip: Conversations about your products, brand, and industry happen in multiple locations online. Consider tying them all together to provide a go-to destination for your audience.
These are just three examples of Social Media Marketing put to good use for business. Would you like your company to be among them? Share with us some of your most effective marketing ideas!
Source: Business Insider
Image: Wikipedia