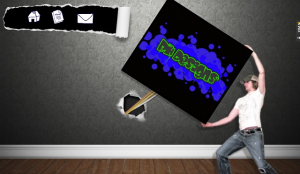 A website portfolio shows the world what you can do as a designer. Your portfolio is important to getting new business and retaining old. When creating your portfolio, avoid doing these things so that you can increase your chances of pulling in new business from site traffic:
Use weird colors
A weird color blend may look artistic to you, but to a potential client it looks unprofessional and cluttered. Stick to classic color designs for your portfolio. You want your past work to stand out, not the website itself. This is one of the best ways to avoid confusing potential clients.
Too much text
People don't come to your portfolio site to read. They want to see what kind of designs you make and what you can do. You don't need to tell people what you can do so much as show them what you can do. If you have too many words on your site your visitors may get bored and move on to another designer's site.
Strange fonts or font colors
Black text is easiest to read. Strange fonts and italics can confuse readers, making them not want to use you as a designer. Your portfolio site should be straightforward and classic to attract a variety of customers.
No contact info
Nothing is worse than a customer visiting your site and not finding a way to contact you. If you have no contact information on your website, then potential clients cannot reach you for new business. Always make sure your contact information is correct and easy to identify on your page.
No bio
Customers will want to know a little about you before hiring you as a designer. Include a short bio with some of the names of the sites you have designed, any relevant skills, and relevant education. This will give visitors confidence in your abilities.
Strange links
There is no need to overwhelm visitors with strange information on your website. Even if you think a video is the funniest thing you have ever seen, place it on your social page, not your professional one. Avoid the use of affiliate links and ads on your professional page as well.
Did you find this article helpful in creating your website portfolio? Feel free to give us your feedback!
Source: Inspiration Feed
Image: Wix